Open House Poker Run Blooper Video
O"Keith Judish and the The Compass Point Realty Group with Arizona Premier Realty Homes & Land LLC have a lot of fun selling Real Estate! On Saturday March 14th O'Keith and the team were having a good time with the Open House Poker Run and the turn out was fantastic!
The Open House Poker Run consisted of 4 beautiful Sun City, AZ homes and potential buyers were invited to visit all 4 and collect playing cards at each house. The winner walked away with a $25 Starbucks gift card and a great time was had by all!
Just like anything O'Keith Judish does when it comes to Real Estate, much preparation went into the Open House Poker Run to ensure it was successful for the potential buyers, the agents on hand, and the on-site lenders who were available to answer your Real Estate and financing questions.
Of course, part of the preparation of The Open House Poker Run was marketing the event so potential buyers did not miss out, and included in the preparation was a series of four videos created, one video for each house, announcing the event.
While O'Keith Judish is a pro at selling Real Estate; lets just say he is not as pro in front of the camera! During the shooting there was several filmed bloopers that only added to the fun preparing for the event.
During the filming, O'Keith declared himself to be a "Handsome Guy.", and remarked "If I were in Sun City, I'd buy from that guy.". He forgot the camera was on, and found himself mixed up over what house he was promoting simply due to getting his lines mixed up.
Unlike his video debut, in Real Estate transactions, O'Keith is nothing short of the best, and with his six plus years of experience and a scientific approach to selling Real Estate, he gets the job done easily and efficiently, securing successful closes.
While The Compass Point Realty Group serving the West Valley and Metroplex areas, likes to have a good time and have fun selling Real Estate, O'Keith Judish and his team of knowledgeable Real Estate agents take the job of providing their buyers and sellers top not service very seriously. With advanced search technology, video home tours, and assertive marketing – The Compass Point Realty Group knows that selling Real Estate is no monkey business!
For serious service when you are looking to buy or sell your home; think Compass Point Realty Group and give them a call!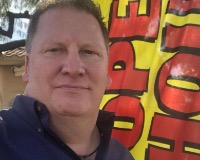 Author:
Keith Judish
Phone:
623-224-7956
Dated:
March 15th 2015
Views:
607
About Keith: O'Keith Judish licensed REALTOR® with West USA Phoenix AZ. We use advanced search technology for o...