Helpful Selling Tips
It's a great time to sell!
Here are a few simple but effective tips that can greatly increase the chances of acquiring a fantastic sale. These quick ideas can be easily implemented and will make your home feel especially desirable to potential buyers.
I hope you enjoy the tips, and I hope you're enjoying the sale process so far! If you have any questions or would like some additional advice, please feel free to call me at any time at 623-224-7956!
FIVE QUICK TIPS TO IMPROVE THE DESIRABILITY OF YOUR HOME
TOUCH IT UP: A finished, flawless paint job can enormously increase the value and attractiveness of your home! Spend some time checking the exterior and interior surfaces—as well as fences, banisters, etc.—and touch up any chipped or peeling paint.
BAKE, BAKE, BAKE: Research has shown that potential buyers are greatly influenced not only by the appearance of a house, but by its scent as well! Baking cookies or pastry before an open house or showing will fill your home with a warm, welcoming and comforting aroma that is irresistible to buyers!
TOUCH OF COLOR: In addition to providing a delightful and aromatic scent, fresh flowers brighten up your home and appeal to the buyer's sense of aesthetics. Add a few arrangements in different rooms to add some color and cheer!
MIRROR IMAGE: Mirrors have long been used to give the impression of extra spaciousness in a home. Adding a few mirrors to different areas of the house—including hallways and bonus rooms—will make the house appear roomy and bright.
LANDSCAPE LUXURY: Paying special attention to your landscaping is absolutely crucial during the selling process. Keep your lawn freshly mowed, flower beds free of weeds, and add some additional outdoor lighting to brighten up the pathways.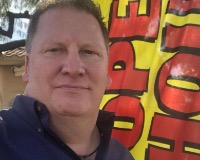 Author:
Keith Judish
Phone:
623-224-7956
Dated:
April 25th 2015
Views:
216
About Keith: O'Keith Judish licensed REALTOR® with West USA Phoenix AZ. We use advanced search technology for o...