End Of Summer Projects
Stretch out these last days of summer by squeezing in a few more home projects, savoring simple pleasures and, when the time comes, cleaning up the beach toys and preparing the house for a busy fall. Pick from these to-dos to create your perfect August plan.


• Finish up outdoor projects. Make use of the long August days to finish up any outdoor projects you started (or intended to start) over the summer, from cleaning the gutters to adding a new deck.


• Check your home for signs of pests. The Environmental Protection Agency recommends taking preventative measures such as removing sources of food, water and shelter, and closing off places where pests can enter and hide. If you hire a pest control pro, ask him or her to use bait and/or crack and crevice control when possible — fogging should be a last resort.


• Clean and store summer gear. Once the last beach day is behind you, take the time to clean out the buckets, shovels and boogie boards so they're fresh and clean for next year.

• Clean carpets and floors. Sand and garden dirt tracked in over the summer can really take a toll on floors. Vacuum and mop floors, and have area rugs and carpeting professionally cleaned if needed.


• Check emergency kits. Emergency supplies don't last forever — open up your kit and check expiration dates on food and any medications; replace as needed. Don't have an emergency kit yet? Make this the month you create one.


• Organize closets before fall shopping. Before making any new purchases, spend some time assessing what you already have in the closet. Doing this before shopping can help save money and prevent cluttering up your closet.


• Clean out the garage. If you haven't cleaned out your garage in a while, it's likely this project will take an entire weekend (or more), so plan accordingly. It helps to think ahead and find out where you can take items (donations, hazardous waste, things to sell) before starting, and get a dumpster if you think you will need it. And if you need help, consider hiring someone to assist you with part or all of the process.


• Schedule some do-nothing time. It can be surprisingly hard to relax and simply do nothing, even when you do have a pocket of free time. By scheduling a time to do nothing, you are actually giving yourself permission to fully relax.


For full article visit: fnhw.us/2rsMZk5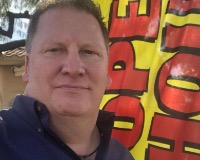 Author:
Keith Judish
Phone:
623-224-7956
Dated:
August 1st 2017
Views:
166
About Keith: O'Keith Judish licensed REALTOR® with West USA Phoenix AZ. We use advanced search technology for o...