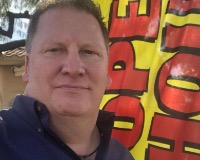 O'Keith Judish licensed REALTOR® with West USA Phoenix AZ. We use advanced search technology for our buyers in which allows them to be alerted immediately when a home hits the market.

These tools help the sellers sell their homes faster and buyers get the home of their dreams in this competitive market.

O'Keith began his real estate career in 2009 using web marketing as his direct source for customer relations. As the internet has taken off, so has real estate. Today 95% of all customers begin their home search using the internet. Having someone like O'Keith with his knowledge of technology is helpful to a client, both locally and abroad, in finding a home in the Phoenix area.

He has provided online video tours to his clients that are out of state and in other countries, which made their home buying purchase a breeze. We use the latest technology that is consistently being updated by the MLS for the latest listings, so the client will never miss out!

If you are looking to purchase a home in the Greater Phoenix Real Estate market please contact us to get the process started today.
Send Keith a Message